Water diving
Water jumping is a popular water sport in which the jumpers jump into the water from different heights and with different techniques. As a competitive sport, water diving has been part of the Olympic Games with various competitions since 1904. A distinction is made between artistic diving (1-meter and 3-meter boards), high diving (5-meter, 7.5-meter and 10-meter tower) and synchronized diving (3-meter board and 10-meter tower). Water jumping is also a popular recreational sport that can be practiced in many swimming and leisure pools and attracts many guests. It is also an important part of most swimming badges and lifeguarding.
Water diving as a recreational sport
Jumping into the water requires courage and skill and has a long tradition. In most public swimming and leisure pools, a diving tower is available to visitors. These facilities are especially for children and young people a great
attraction and are used intensively. In contrast to competition jumping, where elegance and clean diving are in the foreground, what counts for many recreational jumpers is the courage to jump, from greater heights also the feeling of free fall and sometimes also the impression one makes on the spectators. A popular jump is the so-called ass bomb, where you hit the water with as large a surface area as possible, creating a high fountain.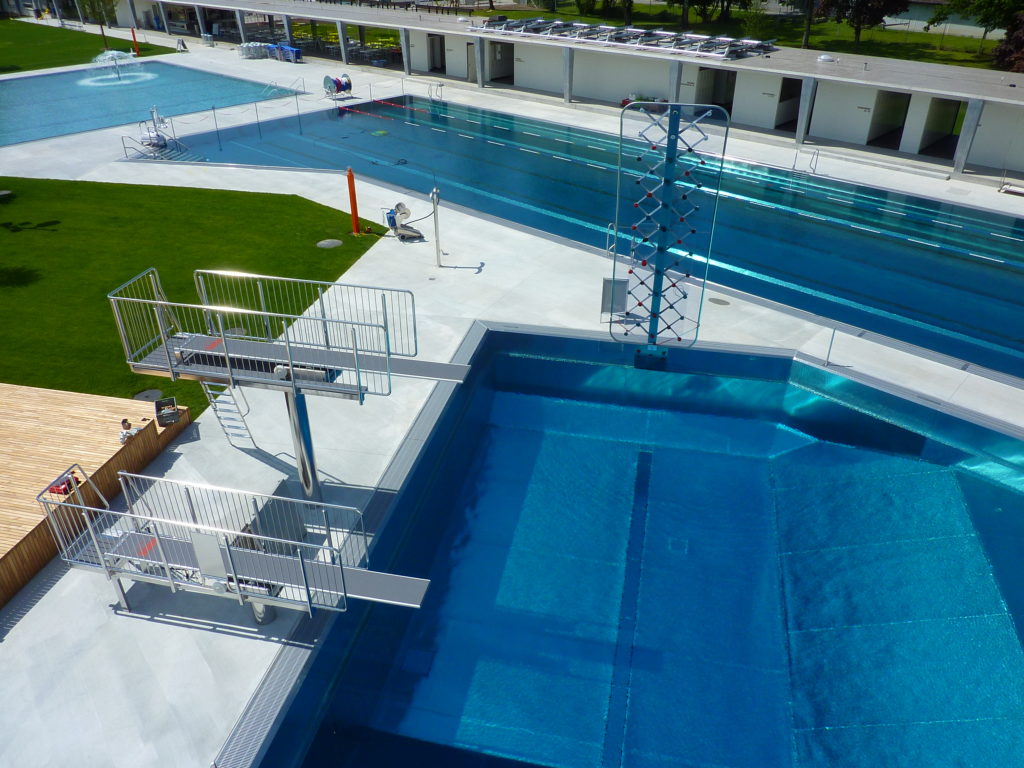 Standards and material selection
Our jumping facilities comply with DIN EN 13451-10 and exceed it in many areas in terms of ergonomics and the important safety-related TÜV recommendations. A corresponding system statics exists for all plants. The fastening is normally done by means of an installation template cast into the foundation. For details on foundation loads, mounting, sizes and options, please refer to our product data sheets.
Our jumping facilities are made entirely of stainless steel with stainless steel railings and stainless steel ladders and can be optionally color coated. The stainless steel diving tower railings comply with DIN EN 13451-10. The railing infill is designed so that it cannot be topped in accordance with the standard – with vertical infill rods or optional glass infill. Optionally, the towers can be equipped with a flatter stainless steel safety ladder with double handrail in accordance with the current standard. The jumping platforms are equipped with a stable covering with slip class C.
For the diving boards, please select the desired type of diving board with substructure:
For recreational sports we recommend our extremely durable GRP diving boards R771162D in 4.8 m length with diving board roller adjustment R771252 and end bearing R31. To reduce the noise level, we always recommend the R32 silencer, especially in indoor swimming pools.
For international and Olympic competitions, we recommend the FINA-compliant R771160-1 aluminum springboard with the R771161 base.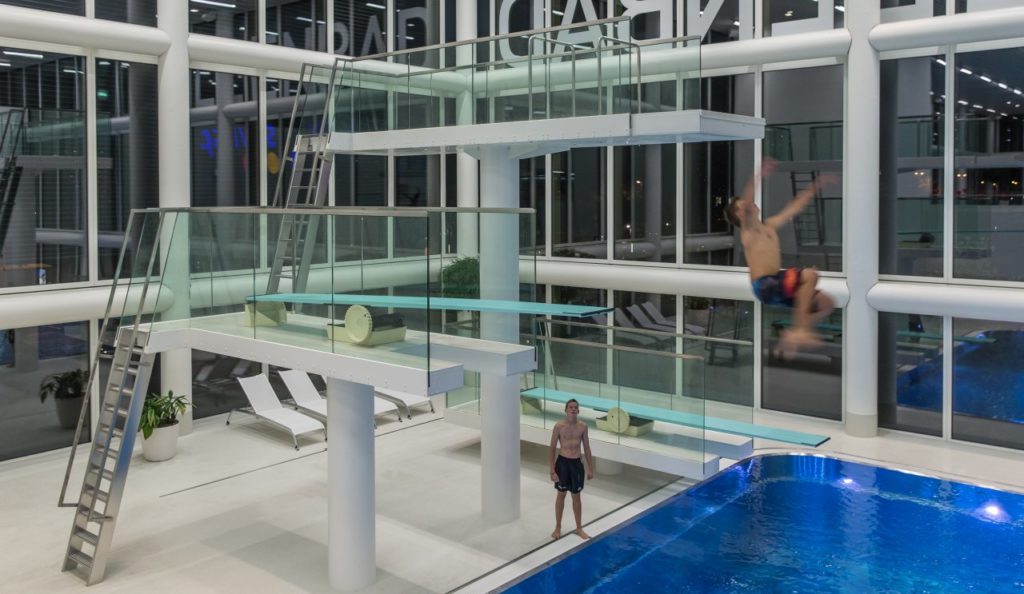 In the public bath popular diving tower combinations
1 m diving board – 3 m diving platform
1 m diving board – 3 m springboard
1 m diving board – 5 m diving platform – 3 m diving board
1 m diving board – 3 m diving board – 5 m diving platform – 3 m diving platform
1 m diving board – 7.5 m diving platform – 5 m diving platform – 3 m diving platform
1 m diving board – 7.5 m diving platform – 5 m diving platform/above 10 m diving platform – 3 m diving platform